Tips & Tricks
Dry Fingers Don't Grip Well?
Ever find yourself without your favorite quilting gloves? Just a drop of 100% glycerin will work instead, and not just for quilting. It will give your fingers gripping power on the needle when doing any sewing by hand. Glycerin is also non-staining!
Price of a small bottle varies from high to low, but the bottle will last a very long time as you only need a drop or two for both hands. Order from your favorite pharmacy.
Keep Notes!
Keep track of sewing data with Post-It™ notes right on your sewing table next to your machine. Note stitch number, stitch length, type of thread, and ideal tension for your current project. This data is invaluable for any sewing that goes on for days and days and keeps you from having to guess what settings you were using.
Don't forget to add these notes to any stitched-out sample with permanent pen for future reference.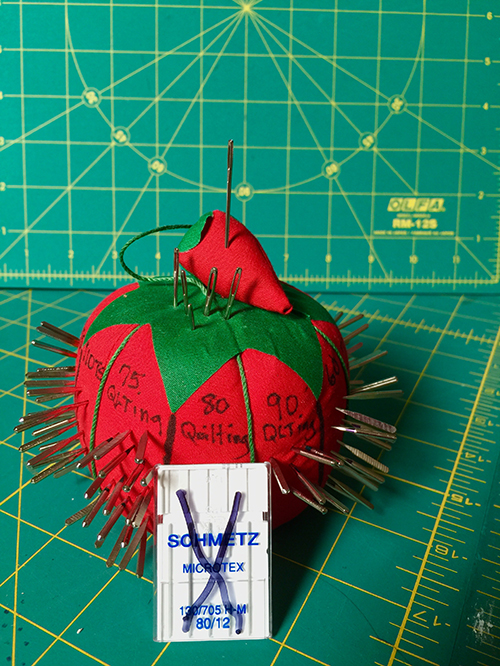 How Do You Dispose of Sewing Machine Needles?
What do you do with used sewing machine needles? Simply remove all new needles from their plastic case and stick them in a large "tomato" pincushion that has been marked with your favorite needle sizes. Mark the empty plastic cases with a big black "X." When you remove a worn needle from your machine, it goes into the case with the "X." When each case is full, seal the plastic case with packing tape. Recycle wherever allowed or simply toss the sealed case in the trash.
Some quilters recycle used sewing machine needles to hang photos, paintings, etc., on walls. These tiny steel "nails" work well when lightly hammered into wall studs at a downward angle.
A Neat Trick to Keeping Track of Fusible Products
When preparing to press a fusible product to fabric, first tape parchment paper to the surface of your ironing board with clear packing tape. (Yes, clear packing tape will stick to parchment paper!)
Fusible products don't stick to parchment paper, and therefore, you don't need those expensive, non-stick pressing sheets. Additionally, parchment paper (for use in baking food) can be found in every grocery store in the baking section – usually right next to the freezer paper!